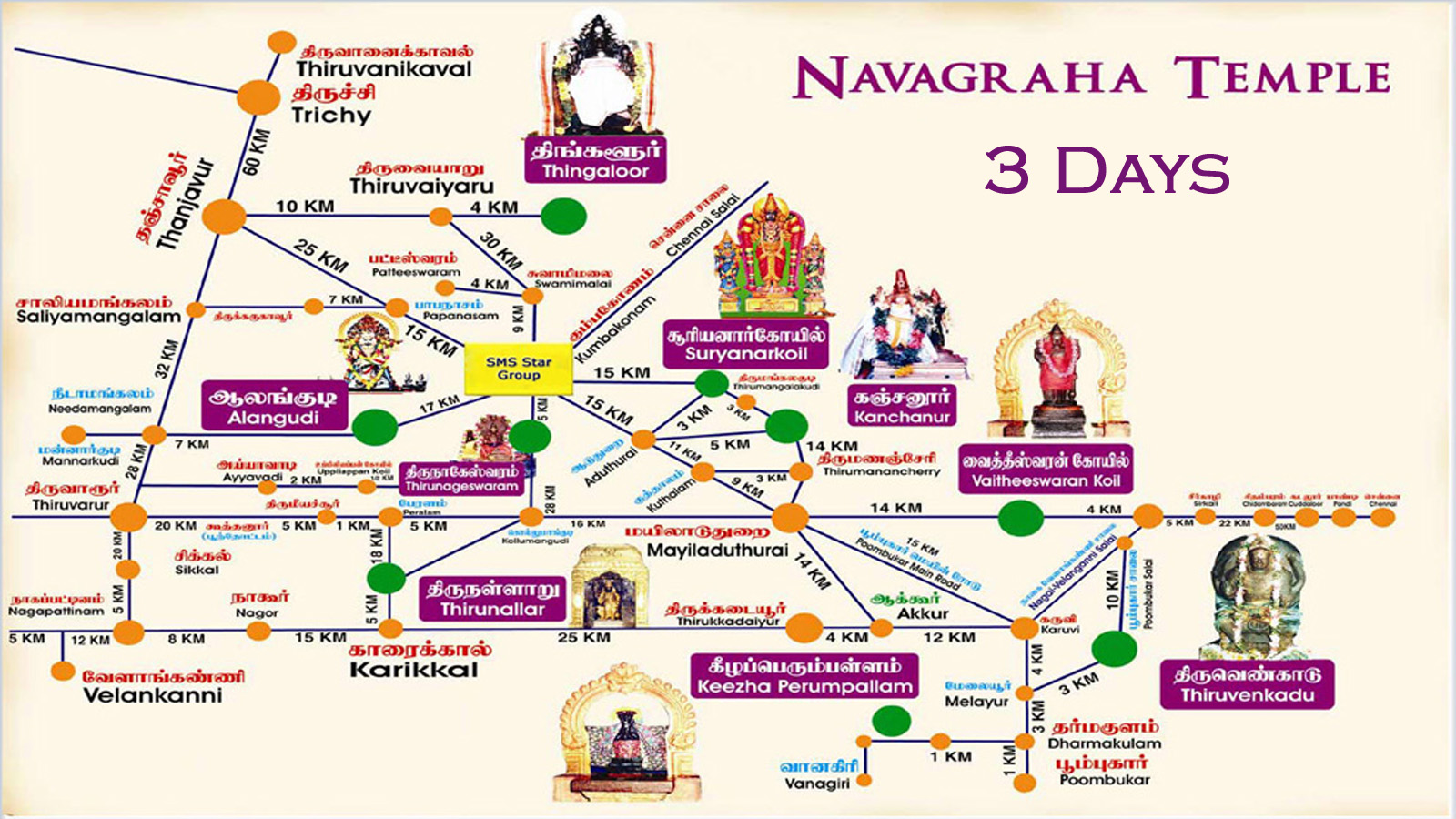 Chennai to Navagraha Temple Tour Car Rental Package, Balaji travels systematizes cheap & Best Car Rental Packages Offer from Chennai to Navagraha Temple. We provide 24/7.
| TYPE OF CAR | SEATER | PACKAGE AMOUNT | BOOKING |
| --- | --- | --- | --- |
| INDICA | 4+1 | 12400 | Book Now |
| DEZIRE / ETIOS A/C | 4+1 | 13700 | Book Now |
| INNOVA A/C | 6 +1 & 7 + 1 | 17900 | Book Now |
| INNOVA CRYSTA A/C | 6 +1 | 21500 | Book Now |
| TAVERA A/C | 9 + 1 | 17900 | Book Now |
| TEMPO TRAVELLER A/C | 12 + 1 | 23000 | Book Now |
CHENNAI TO TIRUMALA CAB FARE PICKUP & DROP
Anywhere in Chennai hotel or your home free door step (Only city limits).
INCLUDES
Above the package including, Driver Batta, State Permit, Toll Gate and Car Parking, Diesel Charges, see above the list of place which will be covered in one day Package starts from Chennai and end in Chennai.
PACKAGE EXCLUDES
Breakfast, Lunch, Dinner, Hotel accommodation, Sightseeing entrance Charges, Driver Food & Tips (As per your wish).
NOTE
A booking ID No (confirmation) will be sent to the traveler over email when he completes an online car booking with Balaji Travels along with a SMS update on the same.
Driver & car details - These details will be sent to the customer by Balaji Travels approximately before 7 hours from the pick-up time by SMS and email.
Pick-ups or drops from multiple locations are not included in such bookings.
All bookings under consideration are on a calendar day basis i.e from midnight 12:00am to midnight 10:00pm. As an example for a cab booked for 14th Apr where the pick-up time is 01:00pm, the booking will be valid till 14th Apr 10:00pm and not 15th Apr 01:00 pm.
Our driver will help & guide.
Kindly request for in the vehicle A/C is not working in the hills place only, please co-ordinates with us.
We will book for Kumbakonam hotels booking - Please Call this number: +91- 9176786353.
Non receipt of driver and car details - In such cases the customer needs to contact the support team at Balaji Travels on 7550041147 and mention the booking ID number.
In case of any misconduct or misbehavior by the driver the customer should immediately report to the support team of Balaji Travels at 7550041147 and share the experience while mentioning the booking ID No for reference.
But We Can Arrange by Chennai to tirupati packages & Tirumala Tirupati Balaji Special Darshan Tickets and hotel Booking, Balaji Travels contact number +91- 9176786353.
VISIT THE ALL NAVAGRAHA TEMPLE (09)
Thingalur Siva Temple (Chandran). Timing 07:00am – 01:00pm and 04:00pm – 09:00pm.
Alangudi Guru Arulmigu Abathsahyeswarar Temple.Timing 06:00am – 01:00pm and 04:00pm – 09:00pm.
Kilapperumpallam Ketu Temple.Timing 06:00am – 01:00pm and 04:00pm – 08:00pm.
Thiruvengadu Budhan Kovil. Timing 06:00am – 12:00pm and 04:00pm – 09:00pm.
Vaiteeswaran Sevvai Temple. Timing 06:00am – 01:00pm and 04:00pm – 09:00pm.
Kanjanoor Sukkiran.Timing 07:00am – 12:30pm and 04:00pm – 08:00pm.
Suriyanar Kovil. Timing 06:00am – 12:30pm and 04:00pm – 08:00pm.
Thirunageswaram Raghu Temple. Timing 06:00am – 01:30pm and 04:00pm – 08:30pm.
Thirunallar Shani Navagrahastalam.Timing 06:00am – 01:00pm and 04:00pm – 09:00pm.
NAVAGRAHA
Temples are temples devoted to Navagraha—the nine (nava) major celestial bodies (Grahas) of Hindu astronomy. These celestial bodies are named Surya (Sun), Chandra (Moon), Mangala (Mars), Budha (Mercury), Brihaspati (Jupiter), Shukra (Venus), Shani (Saturn), Rahu (North Lunar Node) and Ketu (South Lunar Node). Many temples in South India contain a shrine dedicated to the Navagrahas. However, the term Navagraha temples refers to a cluster of nine separate temples, each an abode of one of the Navagrahas.
HISTORY
The Suryanar Kovil was built during the reign of Kulottunga Choladeva (AD 1060-1118) and was called Kulottungachola - Marttandalaya. The current granite shrine is believed to have been built by the Vijayanagara empire. In modern times, all the temples are maintained and administered by the Hindu Religious and Charitable Endowments Department of the Government of Tamil Nadu. The Suryanar temple is mentioned in the songs of Muthuswami Dikshitar, who has composed a song starting with "Suryamurthe" in Saurashatraragam. The temple of Thingalur is associated with the legend of Appar bringing back the life of the son of Appoothi Adigal. The idol of moon is made of black granite and clad in pure white.
Vaitheeswaran Koil has five inscriptions mainly belonging to the period of Kulothunga Chola I (1070-1120 CE). The inscription on the steps of Subramanya shrine records the shutter of the sluice at Sattainathapuram measures 35 inches in length and 8 inches in breadth. The one on the right of the temple tank indicates the tank, Nachiyar shrine, and its hall were completely renovated when Kanderayar was governing the SigaliSimai, and during the management of the temple by Muthukumaraswami Tambiran, a disciple of Sivagnanadesikar - Sambandar of the Dharmapuram Adheenam. On the wall of the second precinct, the inscriptions state that the courtyard of Thayalnayagi shrine, the sacred steps and Tattisuri hall were built during Tamil year 4868 corresponding to 1689 CE. On the floor near accountant's seat registers a deed granted by Sankarabaragiri Rengopanditar by Ambalavanatambiran, an agent of the temple. The Easter gateway inscription indicates the gift of taxes from Manipallam in Tiruvalipparu.
WORSHIP AND FESTIVALS
The temple priests perform the pooja (rituals) during festivals and on a daily basis. Like other Shiva temples of Tamil Nadu, the priests belong to the Shaivaite community, a Brahmin sub-caste. The temple rituals are performed six times a day; Ushathkalam at 5:30 a.m., Kalasanthi at 8:00 a.m., Uchikalam at 10:00 a.m., Sayarakshai at 6:00 p.m., Irandamkalam at 8:00 p.m. and ArdhaJamam at 10:00 p.m. Each ritual comprises four steps: abhisheka (sacred bath), alangaram (decoration), neivethanam (food offering) and deepaaradanai (waving of lamps) for Suryanar, Ushadevi and Chayadevi. The worship is held amidst music with nagaswaram (pipe instrument) and tavil (percussion instrument), religious instructions in the Vedas read by priests and prostration by worshippers in front of the temple mast. There are weekly rituals like somavaram and sukravaram, fortnightly rituals like pradosham and monthly festivals like amavasai (new moon day), kiruthigai, pournami (full moon day) and sathurthi.
The temples are a part of the popular Navagraha pilgrimage in Tamil Nadu. The planets are believed to influence the horoscope computed based on time of one's birth and subsequently influence the course of life. Each of the planets are believed to move from a star to another during a predefined period and thus sway over an individual's fortunes. The Navagrahas, as per Hindu customs, are believed to provide both good and bad effects for any individual and the bad effects are mitigated by prayers. As in other Navagraha temples, the common worship practises of the devotees include offering of cloth, grains, flowers and jewels specific to the planet deity. Lighting a set of lamps is also commonly followed in the temple.