Tirumala Tirupati Balaji Darshan Ticket And Timing Booking From Online
05:00am - Pickup From Home, Hotels & All Bus Stop In Chennai.
Citylimits Only Free Door step Pickup And Drop, For Out Of City Pickup Charge Will Be Added. (800)


06:30am - 07:00am - Breakfast - 2 STAR Package Hotel.


05:00am - 08:30am - Journey To Tirupati 03:00 Hours.


08:30am - 09:15am - Drive To Tirumala 00:45 Mins.


9:15am - 10:15am - Head Tensure, Bathing, Ear Boring In Tirumala.


10:15am - 10:30am - Reporting Point any One Place At 300 Special Entry Darshan Counter, ATC Car Parking, Musium Centre, Ram Bagicha Bus Stop Parking Opp Site.


10:30am - 01:00pm - TIRUMALA BALAJI Darshanam


01:00pm - 01:15pm - Collecting Laddu Prasadam, Per Head 01 Laddu, Extra Per Laddus -Rs.50 cover small – Rs.2 Big – Rs.5 Each.


01:15pm - 01:30pm - Boarding Return Cab To Tirupati.


01:30pm - 02:10pm - Joutney To Tirupati 00:40 Mins.


02:10pm - 03:00pm - Lunch North Indian Meals & South India meals.


03:00pm - 03:30pm - Drive To Tiruchanur Padmavathi Temple.


03:30pm - 04:45pm - Padmavathi Darshan.


05:00pm - 08:00pm - Return Journey To Chennai.


08:00pm - 08:15pm - Drop In Chennai, Tour Service End. For NRI / BABY Below 12 Months / SENIOR CITIZENS Above 65 Years / Balaji Darshan Will Be Specially Arranged At A Specific Time.
Tirupati darshan today, tirupati darshan availability, tirupati darshan available now, tirupati darshan available dates, tirupati darshan agents, tirupati darshan booking app, tirupati darshan date availability, tirupati e darshan booking counter,tirupati e darshan ticket, tirupati e darshan booking online, tirupati darshan free ticket, tirupati darshan for nri, tirupati darshan nri, tirupati darshan nri quota, tirupati darshan nri tickets, tirupati darshan online booking.
Special Entry Darshan, tirupati darshan from Chennai, tirupati e darshan login, tirupati e darshan booking, tirupati e darshan booking online, tirupati darshan dates, tirupati darshan contact number, tirupati balaji darshan, tirupati darshan laddu booking.
Tirupati darshan online booking login, tirupati darshan online tickets booking, availability of tirupati darshan tickets, tirupati darshan registration, tirupati darshan reservation, tirupati darshan special ticket, tirupati darshan vip ticket booking,tirupati darshan in one day, tirupati darshan without online booking, tirupati darshan without ticket.
Tirupati darshan, tirupati darshan ticket agent, tirupati darshan ticket, tirupati darshan today, tirupati darshan booking, tirupati darshan ticket booking, tirupati darshan booking Chennai, tirupati darshan 300 rupees ticket, tirupati darshan tomorrow, immediate darshan tirupati, tirupati darshan 500 rupees ticket, tirupati darshan ticket rates.
Tirupati darshan tickets availability, tirupati darshan tickets near me, tirupati darshan package, tirupati darshan booking agent in Bangalore, tirupatibalaji ticket, 300 rs tirupati ticket, ttd 300 rs ticket online booking,tirupati ticket for darshan, tirupati ticket booking, tirupati ticket counter, tirupati ticket availability.
Special Entry Darshan is to arrange quick Tirumala Darshan to the Pilgrims when the crowd rush is heavy.
Cost of the Ticket is Rs.300/- per person and is issued at VQC-I.
T.T.D website for Darshan tickets Online booking www.ttdsevaonline.com
There is a special entry point thru Supadam for NRIs, in-service military personnel, less than a week old newly married couple, parents with infants below one year of age, for the family of employees.
Differently abled and the Senior Citizen devotees, men should be 65 years and above, women should be 60 years and above to access Special Darshan line. Special entry Darshan line is near Tirumala Nambi Temple in South mada street, which is beside main Temple.
The pilgrims falling under this category will be allowed in two different slots at 10am and 3pm every day on showing the age proof id-cards/ relevant medical certificates.
Couple who ties the knot in the abode of Lord Venkateswara in Purohit Sangam comes under this category.
The total expenditure for a marriage is Rs.865 out of which Rs.500 is Dakshina to Purohit, Rs.300 to melam and Rs.65 towards marriage video.
T.T.D provides free Tirumala darshan to the couple and their parents-a total of six members through Supadham along with a laddu for each person at a subsidized price of Rs.10.
Purohit sangam is at Papavinasanam Road.
Tickets issued Place: Central Reception Office, Tirumala.
Ticket Issued Time at C.R.O: 2 p.m, No.of Tickets to be issued: 750.
Pilgrims who plan to do Angapradakshinam should stand in Queue at C.R.O office counter.
Tickets will be issued for next day, It is free and ticket is issued using biometric finger print.
At 1:30 am, the next day devotee should report at Supadam Entrance after having bath.
It is good to take bath in Swamy Pushkarini and Do Darshan at Aadi Varaha Swamy Temple before Entering Angapradakshinam.
Pilgrims should have taken bath and there should be wetness in the clothes.
Next day.
Dress code : Women should wear saree, Men should wear only dhoti By 2:30am you will be inside the temple. You have to lie flat on ground & perform the Angapradakshinam in the inner prakaram.
Immediately after this Pilgrims will be allowed for Tirumala Darshan. This is very good because Suprabhatham pooja also will be going on at same time.
In and Out time from the Temple is just 2 hrs.
As per G.o Ms No. 311 Rev.Endts - 1 Dept, dt-09-04-1990.
Admission of Non Hindus into T.T.D maintaining Temples: Tirumala Tirupati Devasthanams Temples are Hindu Public Temples. They are generally Used as of Right only by the Hindu Community, However there can be no objection for admission of Non-Hindu into the Tirumala Tirupati Devasthanams Temples provided He/She furnishes a declaration in the prescribed form stating faith and reverence in Lord Venkateswara.
The declarations forms are available at Vaikuntam Queue Complexes/JEO's camp Office/ Reception Offices/All Sub Inquiry Offices in Tirumala.
Tirumala Darshan Ticket is not required children below 12 years of Age. One must carry Age proof of the Child.
Special Entry for Tirumala Darshan is available for Infants and His/Her parents below 1 year age thru Supadam.
T.T.D has introduced e-Darshan facility, where in the pilgrim is provided with Tirumala Darshan slot before actually the pilgrim reach Tirumala. e-darshan counters were established in most of the T.T.D Kalyanamandapams and Information Centres in all most all parts of Andhra Pradesh and outside Andhra Pradesh. Pilgrims are allowed inside Vaikuntam Queue Complex-I, as per the time slot.
For Tirumala Darshan : e-Darshan Tokens are available at.
Sri Vaari Sannidhi, which is on the way to Kapila Theertham from R.T.C Bus station (1 km from Bus station).
Mahathi Auditorium Address: NTR Circle, Town Club, Tirupati.
Opposite Renigunta Railway station.
If Devotee fails to get Rs.300 tickets online, there is one more way for Tirumala Darshan, Tirumala Darshan tickets are issued Tirupati Head Post Office.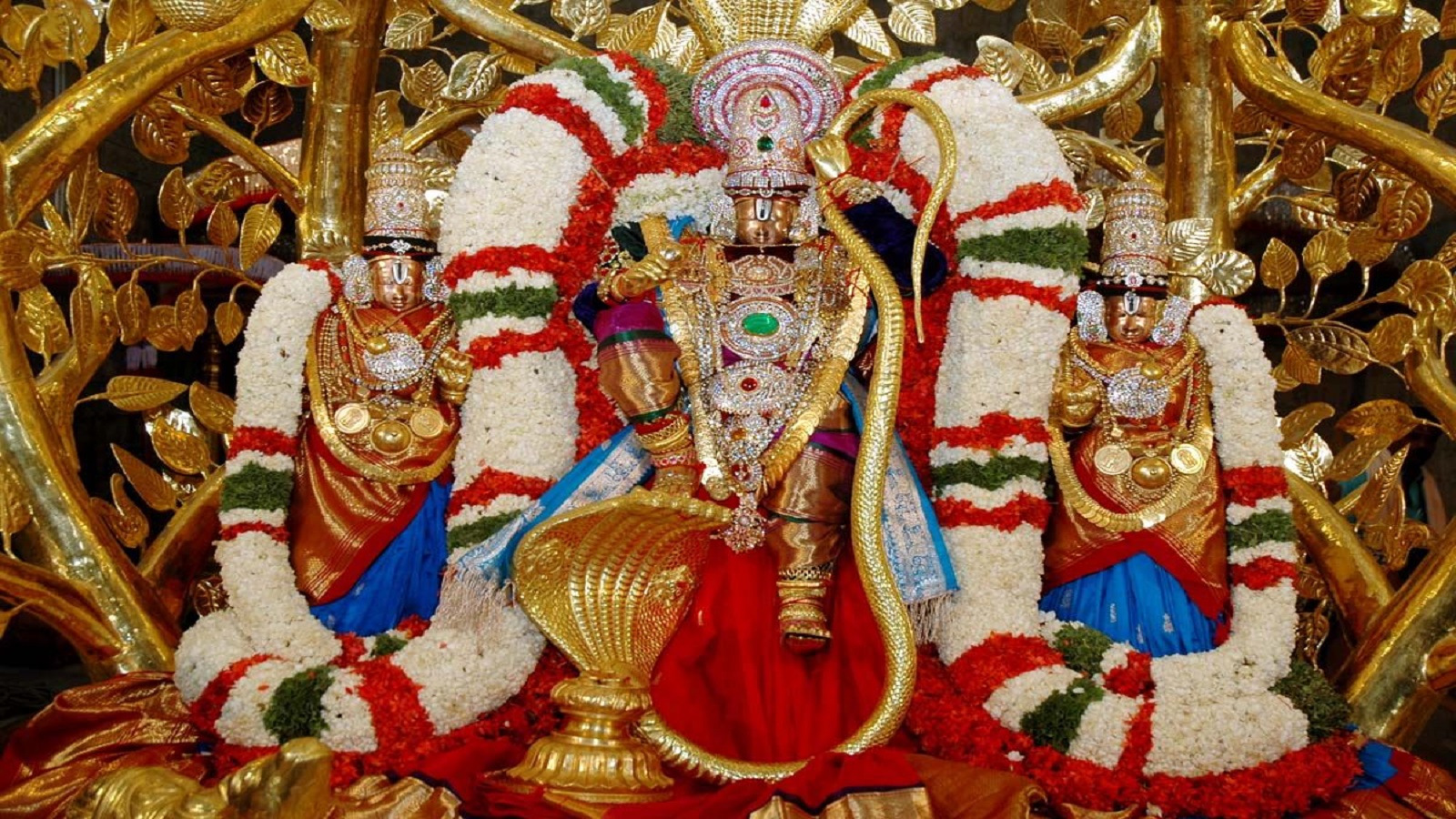 TIRUMALA DAILY SEVAS
Suprabhatha Seva
Thomala Seva
Archana Seva
Ekantha Seva
Suprabhatha Seva Timings: 3 A.M To 3:30 A.M.
Suprabatha Seva Reporting Time: 2 A.M.
Suprabhta Seva Detailed Description:
To participate in Arjitha Sevas, one has to go to Vaikuntam Q Complex (VQC) which is right opposite to Vijaya Bank. During Suprabhata Seva, for 11 months except Dhanur maasam, sri Venkateswara Suprabhatham, Prapatti, Mangalasaasanam rendered by Sri Prathivadhi Bhayankaran are recited and during Dhanur Maasam, Tiruppavai is recited.
This seva lasts for half an hour from 3 A.M. to 3.30 A.M.Though the reporting time for seva is 2 A.M, the devotees start gathering at VQC-I from 00:30 hours. The tickets are thoroughly checked by T.T.D authorities at various points enroute to temple. It takes about 20 minutes to reach the temple premises. There is no queue system followed here and you can literally see people racing towards the temple and obviously, the devotees who reach first would be standing very near to Dwaaram.
It may be mentioned that even today the Jeeyar heads all the activities of the temple . Every night after Ekanta Seva (Pavalimpu) is over, the doors of the temple are locked and sealed and the key is handed over to Jeeyar. The next morning, the Jeeyar comes along with the archakars and in his presence alone, the doors are opened. As a Yadava used to offer milk to Lord Srinivasa when he was resting in an anthill and as Lord Krishna was born in Yaadava kulam, even to this day, only the Yadavas have the privilege to have Lord Sri Venkateswara Viswaroopa darsanam first. The doors of Bangaru Vaakili are opened but we could not have Lord Srinivasa's darsanam as a screen was put.
The pujaris who had accompanied Jeeyar recited Sri Venkateswara Suprabhatam starting with This is immediately followed by "KAMALAKUCHA which is in praise of Lord consisting of 11 verses which is followed by VENKATESWARA PRAPATHI consisting of supplication of 16 verses and benediction starting with SRIYAH KANTAYAH.consisting of 14 verses. "KOUSALYA SUPRAJA RAMA" Comprising of 29 slokams.
Soon after this, the pujaris enter the garbagriham , light deepams and Utsava vigraham is removed from the bed . After suddhi, the curtain will be raised and for the most memorable Viswaroopa darsanam of Lord Venkateswara. Apart from having Srinivasa's Viswaroopa Darshan, another advantage is that theertha prasaadam will be offered.
Thomala Seva Timings: 3:30 A.M.
Thomala Seva Reporting Time : 3 A.M.
Seva Detailed description:
After Suprabhata Seva, Suddhi takes place and Thomala Seva starts around 3.30 A.M. and lasts for 45 minutes. Devotee should report at 3 A.M for this Seva.
This is the seva wherein Lord venkateswara is adorned with all types of flowers. The pushpa kainkaryam done to Lord Srinivasa by Pradhana archaka. Thomala Seva is the seva where the Lord of Seven Hills is bedecked with beautiful, fragrant flowers.During this seva, THIRUPPAVAI is recited and many basketful of flowers are offered to the Lord. Devotees are allowed to sit and watch the seva for more than half an hour.
During 4.30 A.M. to 4.45 A.M., Koluvu takes place wherein the accounts of the previous day are read out. This is not Arjitha Seva and is held in privacy. After the accounts are read out, the same is read out in front of Sri Govindaraja Swamy at Tirupati as it is believed that Sri Govindaraja Swamy had lent money to Srinivasa for His wedding and as Lord Srinivasa promised to repay Sri Govindaraja Swamy till the end of Kali yugam, Srinvisa promised to repay Sri Govindaraja Swamy. Hence, every day , the accounts are read out in front of Sri Govindaraja Swamy.
Sahasranama Archana Seva in Tirumala.
Archana Seva Timings : 4.45 A.M. to 5.30 A.M.
Archana Reporting Time: 4:00 A.M.
Archana Seva Detailed description.
On completion of Thomala Seva, The next and most important seva is the Archana Seva. Archana or Sahasranamarchana seva (1000 Name Recital) is performed to the main deity Lord Venkateshwara amidst chanting of his one thousand names.
Every day Archana is performed thrice to Lord Venkateswara- one in the morning (Only during morning archana, the devotees are allowed to participate on all days except Friday, Saturday, Sunday and during Brahmotsavams).The seva ticket is Rs.220/- which is worth it.The second archana is performed in the noon in Ekanatham and the third archana is performed in the evening.
During Archana, the devotees are allowed to sit in front of Lord Venkateswara for nearly half an hour and watch Archana which is a real feast to the eyes. 1,008 names of the Lord are recited slowly and clearly by a pandit.Inside the garbagriham, another pujari does Pushpa Archana at Lord Venkateswara's holy Feet. Earlier DD process booking was there in place, but now TTD has removed this feature and it is going to online booking.
Ekantha Seva Starting Time: 1:30 A.M
This is the final ritual in the daily sevas. During Ekanta Seva for 11 months in a year except Dhanur Maasam, the silver idol of the main diety, Sri Bhoga Srinivas Murthy vigraham is seated on the velvet bed in the swinging golden cradle in Sayana Mandapam. A descendant of Annamacharya the poet devotee of the Lord, sings Annamayya keerthanas to put the Lord to sleep. Tarigonda Vengamamba's Harathi is performed in a plate inlaid with the pearl-studded image of one of the Dasavatharas, a different plate and different Avathara for each day.Perfumed sandalwood paste biscuits are placed at the feet of the Lord Sri Venkateswara and on the chest of Bhoga Srinivasa murthy and Alamelumanga. During Ekantha Seva, The Lord is offfered sweets, milk, fruits etc .
During Dhanurmasa, Lord Krishna is put to sleep in this cradle instead of Lord Sri Venkateswara.
TIRUMALA WEEKLY SEVAS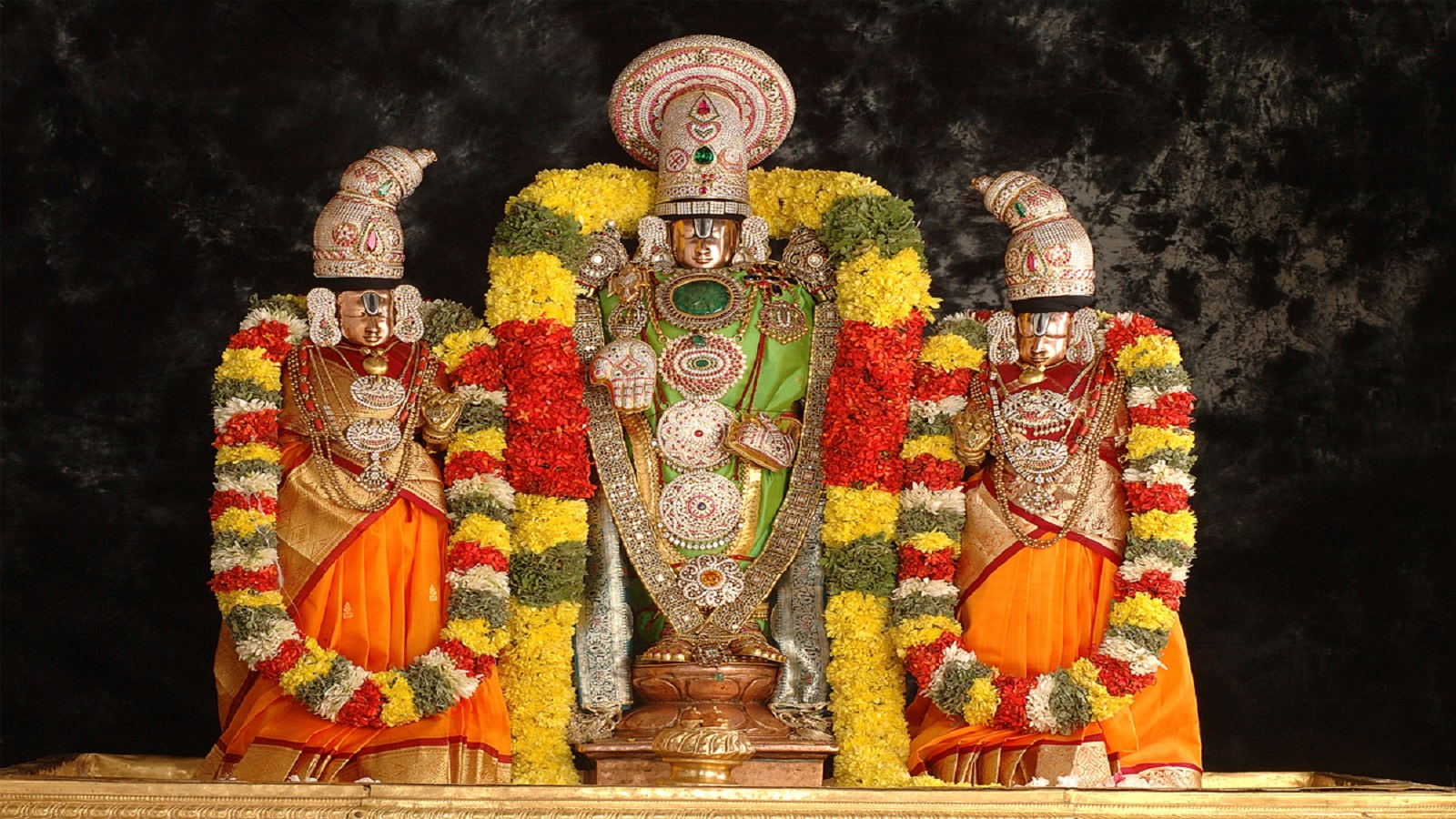 TIRUMALA WEEKLY SEVAS
Visesha Pooja
Ashtadala Pada Padmaradhana
Sahasra Kalasabhishekam
Thiruppavada Seva
Vastralankara Seva
Poorabhishekam
VISESHA POOJA
Visesha Pooja Reporting Time: 6:45 A.M.
Visesha Pooja Seva Time: 7:30 A.M.
Visesha Pooja starts around 7:30 a.m, the Utsava murthy is brought to the Mandapam for 'Chaturdasa Kalasa' ( which means 14 Kalasas) Visesha Pooja. In the midst of Chanting of Pancha Sukthas, Thirumanjanama is performed start with milk ( From T.T.D Dairy Form which is meant only for Sevas), then water, curds, Sandalwood powder and finally with water. After the sacred bath, Harathi and Puranhuthi, Naiveydam is offered to the Lord Sri Venkateswara.
Visesha Pooja will be performed only on Monday's.
ASHTADALA PADA PADMARADHANA
Ashtadala Pada Padmaradhana Reporting Time: 5 A.M.
Ashtadala Pada Padmaradhana Seva Time: 6 A.M.
Ashtadala Pada Padmaradhana will be performed only on Tuesdays. Ashtadala Pada Padmaradhana is introduced in the year 1984 when a Muslim devotee offered 108 gold lotuses to the Lord Sri Venkateswara. Ashtadala Pada Padmaradhana start around 6 a.m. After offering Dhoopa and Deepa to the main deity, the priests recite the Dwadasa names of the Lord Malayappa, and with the utterance of each name, one gold lotus is offered at His feet. After this, Archana is performed to the Consorts of the Lord Malayappa, Sri Devi and Bhu Devi. In conclusion of this ritual, Harathi is performed to the Lord Sri Venkateswara.
SAHASRA KALASABHISHEKAM
Sahasra Kalasabhishekam Reporting Time: 5 a.m.
Sahasra Kalasabhishekam Seva Time: 6 a.m.
Sahasra Kalasabhishekam will be performed only on Wednesday's. Sahasra Kalasabhishekam starts around 6 a.m, 1,000 silver vessels filled with sacred water, sandalwood paste and so on are placed on a bed of Paddy. Abhishekam is performed to Sri Bhoga Srinivasa Murthy, Sri Malayppa Swamy, His Consorts Sri Devi and Bhu Devi and finally Vishvaksena. Later, in the sanctum, Ekantha Ashottara Archana is performed to the main deity in front of temple officers.
THIRUPPAVADA SEVA
Thiruppavada Seva Reporting Time: 5 a.m.
Thiruppavada Seva Starting Time: 6:15 a.m.
Thiruppavada Seva will be performed only Thursday's. Thiruppavada Seva starts around 6:15 a.m, in Tirumamani Mandapam. A large quantity of Pulihora ( Tamarind rice) is cooked and offered to the Lord Sri Venkateswara along with several other sweet preparations. They are placed along with coconuts, flowers, sandalwood paste and Vermilion and deepas is offered to the Lord Malayappa amidst the chanting of mantras by the Temple Priests.
VASTRALANKARA SEVA
Nija Pada Darshanam in Tirumala And Vastralankara Seva in Tirumala.
Abhishekam Reporting Time: 3 a.m.
Abhishekam Start Time: 3:30 a.m.
Vastralankara Seva Reporting Time: 3 a.m.
Vastralankara Seva start Time: 3:30 a.m.
Nija Pada Darshanam Reporting Time: 5 a.m.
Nija Pada Darshanam Start Time: 5:30 a.m.
Punugu Kappu means anointment with Civet Oil or Scented Oil, Called Meditta Punugu. In the Friday Abhishekam, conducted around 3:30 a.m, the deity is anointed with a mixture of Paccha Karpuram, Saffron Paste and musk mixed with a few drops of civet oil. This is collected in silver cups and taken around the Sanctum on the Vimana Pradakshinam in procession accompanied by music. A ball of Civet oil mixed with refined camphor is placed at the feet of the Lord Sri Venkateswara. Then, Thirumanjanam or the sacred bath is performed for the deity first with water brought from Akasha Ganga which is poured through a conch covered with gold. Then the Lord Venkateswara is bathed with Milk (brought from T.T.D Dairy Form) and then with water.
Sri Ramanjua is supposed to have initiated this weekly Thirumanjanam, later this became a weekly seva during the period of Sri Krsihna Deva Raya. After this Abhishekam, a mixture of sandalwood paste, saffron and refined camphor (Paccha Karpuram) is applied to the Idol. Again Abhishekam is performed with water amidst the chanting of Purusha Suktham, Narayana Suktham, Sri Suktham, Nila Suktham and the Prabandam.
After Abhishekam, Vastralankara Seva (Vasatralankarana Seva) between 3 a.m to 3:30 a.m and Nija Pada Darshanam at 5:30 a.m.
Paccha Karpuram and Kasturi (musk) are used after Abhishekam and Punugu Kappu is used for putting on the Urdhava Pundram for the idol.
Theertham is collected in Silver cups during Thirumanjam and this is the Abhishekam Theertham from the body of the Lord Venkateswara with a little refined camphor and saffron that is distributed to the devotees. Then the deity is dried and receives a light of smearing of civet oil from head to foot. The face is lightly powdered and the usual Namam of Camphor and musk is drawn on the forehead.
Abhishekam is performed to the Goddess Lakshmi resident in the pendant of the gold chain resting on the chest of the Lord Venkateswara amidst chanting of Sri Suktham. And Finally Harathi is performed. Then the white Namam is made thicker and broader. Then Lord Sri Venkateswara is dressed in Pitambharam and adorned with valuable jewels and ornaments.
Sri Padarenut that is the Paccha Karpuram and Kasturi removed from the face of the main deity are mixed with civet oil collected from the feet of the Lord and kneaded by hand. A portion is distributed to the devotees in packets. This practice perhaps is related to the legendary tale in which Ananthalawar pressed camphor to the chin of the Dhruva Murthy to stop the oozing of blood from the wound on his chin.
According to inscription, the hour long Abhishekam for the main idol was introduced by Sri Krishna Dev Raya in the year 1429.
POORABHISHEKAM
Poorabhishekam will be held on Friday's and it is 52 Poorabhishekam's in an year.
Ticket Cost: Rs. 1250.
Number of person allowed per ticket: 1.
Reporting Time: 3:30 am.
Reporting place: VQC I
Devotees should assemble in front of the Parakamani, and the names of the seva kartas of Vastralankara Seva, Udayasthamana Seva, and Poorabhishekam were called out respectively in date wise priority.
Poorabhishekam ticket holders are allowed to sit from the Bangaru Vakili to the Garudalwar Shrine in Thirumamani Mantapam. Ladies should sit on the left side of Lord and gents to the right.
While performing Abhishekam the lights in the Sayana Mantapam, Ramar Madai, Snapana Mantapam and Tirumamani Mantapam will be turned off so that the Abhishekam is visible to all the devotees near the Garuda Shrine.
The Holy body of the Idol including face, is smeared with civet-oil and then the Tiruman-Kappu, the vertical whilte Vaishnavait mark in two thick patches, is performed with fine dust of refined camphor. together with an intermediate black one of musk. Further, in the present-day vocabulary of the temple, punugukapu includes not only the civet-oil and camphor but also musk and saffron, the former being used for putting on the middle mark Kasturi-Tilakam on the forehead, and the latter for making up the sandal paste besides being one of the articles of perfumery for the abhishekam.
It is therefore probable that the two terms pulugu-kappu and punugukapu are mere variants and that the former comprised of the same four articles as the latter now does, namely punugu (civet) , paccha karpuram (refined camphor) , kasturi (musk) and kumkumapuvvu or Kesari (saffron).
How to booking Poorabhishekam Tickets?
1) Under Current booking, Poorabhishekam tickets will be issued. Tickets can be availed using high recommendation letters
Submitting recommendation letter at J.E.O Camp Office
If letter is approved, SMS will be delivered to the registered mobile number
After receiving SMS , you are good to collect tickets at MBC 34 by displaying message and ID proofs.
TIRUMALA UTSAVAMS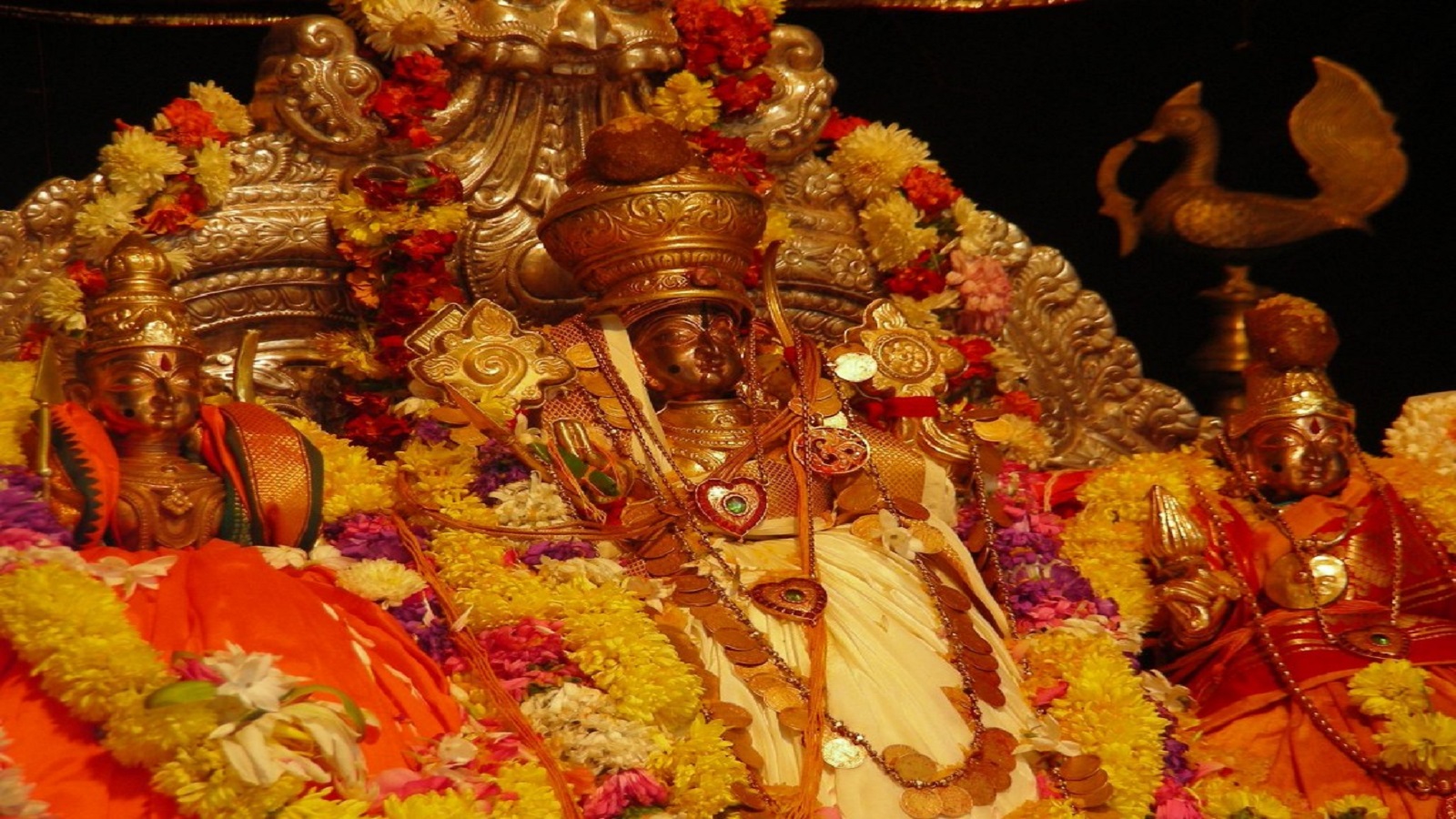 TIRUMALA UTSAVAMS
Vasanthotsavam
Koil Alwar
Thirumanjanam
Pavitrotsavam
Pushpa Yagam
Teppotsavam
Abhideyaka Abhishekam
Padmavathi Parinayam
Pushpa Pallaki
Adyayanotsavam
Ratha Sapthami
Brahmotsavam
VASANTHOTSAVAM
Vasanthotsavam is an annual spring festival conducted around 2 p.m, for three days, on Thrayodasi, Chaturdasi and Pournami in the month of Chitra (English Calendar Months March / Apirl). During this period, The Lord Sri Venkateswara and His Consorts Sri Devi and Bhu Devi are taken out in a procession and brought to the Vasantha Mandapam. Then Abhishekam is performed. On the Third day, the Idols of Sri Rama along with Seetha, Lakshmana and Anjaneya and Sri Krishna with Rukhmini and Sathyabhama are brought to Vasantha Mandapam in procession. This festival was started by Vilambi, Son of Temple Accountant.
KOIL ALWAR
THIRUMANJANAM
Koil Alwar Thirumanjanam is conducted around 11 a.m, four times in a year in accordance with Agama Sastra. This festival is held before Ugadi ( which is Telugu New Year), before Anivara Asthanam, before Vaikunta Ekadasi, and before the Annual Brahmotsavam. The ritual relates to the purification of the Sanctum sanctorum and the premises of the Temple.
All the Idols and articles within the Sanctum are removed and the main deity inside Ananda Nilayam is covered with Water proof cloth. The sanctum including the floors, ceilings and walls are cleaned and brushed. The entire area is then cleaned thoroughly with water and smeared with vermilion, camphor, sandalwood paste, saffron, turmeric etc. Then the covering to the main deity is removed and all the articles and the other idols are replaced at their positions. After completing this event, the purificatory worship is carried out and Naivedyam is offered to the deity.
PAVITROTSAVAM
Pavitrotsavam is an annual pruficatory ceremony seeking explanation for any ins which may have been committed during the performance of the daily rituals and worship of the Lord Sri Venkateswara in the Temple. Pavitrotsavam is performed around 8 a.m for four days along with the chanting of vedas, recitation of Prabandam and performance of Homas.
It starts from the Dasami (10th day) of Sukla Paksha ( bright half of the moon) during Sravana masam (August month). After the rituals, the deity is decorated with Pavitrotsavam garlands of five colors that look like garland of beads. This festival was initiated during the rule of Saluva Narasimha.
PUSHPA YAGAM
Pushpayagam is held after the Annual Brahmotsavam around 6 a.m, on the daya of Sravana Nakshathram, which is the birth star of Lord Sri Venkateswara. Ankurarpanam will be performed prior to Pushpayagam.
After the Daily Pujas, the Utsava murthi, Lord Sri Malayappa Swamy, along with His Consorts Sri Devi and Bhu Devi, are worshipped with a large variety of flowers and sweets.And in the evening these deities are taken out in a procession.
TEPPOTSAVAM
Teppotsavam is annual festival which is celebrated on Phalguna Pournami (full moon) in the Swamy Pushkarini (The Sacred Temple Tank) for five days.
It starts at 6 p.m on the first day, Lord Rama along with Sita and Lakshmana are worshipped.
On the second day, Sri Krishna and Rukmini are offered worship.
During the remaining three days, from Thrayodasi till Pournami, Malayappa Swamy, that is the processional deity of Lord Venkateswara and His Consots Sri Devi and Bhu Devi are worshipped. The deities are worshiped in a decorated float erected in the Swamy Pushkarini.
ABHIDEYAKA ABHISHEKAM
Abhideyaka Abhishekam is three day festival which start around 8 a.m and is meant to protect the processional deities from damage while conducting processions and during Abhishekams or Thirumanjanam (The Holy Bath). Abhideyaka Abhishekam is held in month of July, when the star Jyeshta is in ascendance. So it is called Jeyshtabhishekam.
On the first day after Abhishekam, the Utsava murthy Malayappa Swamy is brought to the Kalyanotsava Mandapam in the Sampangi Pradhakshinam along with His consorts. After Snapana Thirumanjanam, the deities are decorated with Vajra Kavatcham, that is, armour studded with diamonds and taken along the Thiru Maada Streets, the Temple Streets, in procession.
On the second day, after Abhishekam, the deities are decorated in Muthyala (Pearls) Kavatcham and taken out in procession.
And on the third day, they are adorned with Swarna ( Gold) Kavatcham that remains on the deities through out the year.
PADMAVATHI PARINAYAM
Padmavathi Parinayam is an annual celestial wedding festival celebrated in the month of May in the specially arranged Kalyana Mandapam ( Marriage Hall) in the Narayana Gardens, Tirumala. Festival commences at 3 p.m.
It is three-day celebration that is performed in the evening and is conducted on Navami, Dasami and Ekadasi in the month of Vaisakha. The processional deity arrives on Gaja (Elephant), Ashwa (Horse) and Garuda (Eagle) Vahanams and His Consorts Sri Devi and Bhu Devi arrived on separate palanquins.
After the wedding ceremony is performed each day, the deities sit in Koluvu (Darbar) in the Kalyana Mandapam. During this time, Cultural Programmes like Harikatha, dance and music are held. The Utsava murthys are returned to the Sanctum each day.
PUSHPA PALLAKI
As per the tradition, the temple account begins from Dakshinayana, in July. Anivara Asthanam, the grand Darbar festival of the Lord is celebrated on that day, usually on the 16th of July. On the same day, the accounts of the previous year are submitted to the Lord Sri Venkateswara and a new account is started with the opening of a new book.
It starts around 5:30 p.m. All the main Temple T.T.D officials keep their insignia of office at the feet of the Lord Sri Venkateswara and take them back. A new account book is opened to mark the new financial year. It symbolizes the Lord's approval and His finding them fit to hold their posts.
And in the evening, the Utsava murthy along with His Consorts, are taken out in a procession along the main street in a lavishly decorated floral palanquin.
ADYAYANOTSAVAM
Adyayanotsavam is an annual vedic festival when the Vedas, Tamil Prabandhams and Nammalwar's Thiruvaimozhi are recited in the temple. Adyayanotsavm is conducted on the Mukkoti Ekadasi day and is held for 20 days.
During this festival, the Utsava murthys are taken around the temple amidst the chanting of Nalayira Divya Prabandham of the Alwars.
And The last day is Sattumurai day.
RATHA SAPTHAMI
On Ratha Sapthami day, the Utsava murthy is taken around on the Surya Prabha Vahanam. Three more processions then take place with the deity seated on the Sesha Vahanam, Gaja Vahanam and Hanumantha Vahanam.
After Teerthavari and Second Archana to the Idol, the Utsavamuthi again goes on procession on Sarva bhoopala Vahanam, Kalpa Vruksha Vahanam , Chandra Prabha Vahanam and Chakrasnanam. Thus Seven processions on Seven Vahanams take place before Sunset.
Ratha Sapthami also called as Surya Jayanthi.
BRAHMOTSAVAM
The Brahomotsavam is the most important and glittering festival in Tirumala.One can witness a sea of humanity enjoying the grand events on all the day of the festival. Temple area , The Temple and the Chariot are magnificently decorated.
According to the Varaha Purana, Lord Brahma performed this festival for the first time in the month of Asvayuja as per Salivahana Calendar (September - October) when the sun is in the Kanya Rasi. The present Brahmotsavam is celebrated for 9 days continously. It is believed that the festival originally commemorated the day Lord Venkateswara took Avatar on Tirumala Hills.
According to 'Venkatachala Mahathyam', in the twenty-eighth Yuga before the present Kaliyuga, Sri Venkateswara appeared before Brahma and other gods and Rushis, Kings and devotees on a Monday when the Saravana Nakshatram was ascendant. It was the Sukla Paksha Dwadasi of Kanya Masa as per solar calendar ( Bhadraprada Asvayuja masam according to Lunar Calendar) . It is also said that Lord Brahma Worshipped Lord Sri Venkateswara on the banks of Swamy Pushkarini. Hence this festival is called as Brahmotsavam.